The basics of a good lunch box for our children are pretty simple: its healthy and they actually eat it!
Combining EASE and YUMMY-ness makes life better for everyone. So here's 3 ideas to get your school year started.
PS: These can also be made gluten-free, dairy-free, and are naturally sugar-free, so should suit most small tummies!
2-Ingredient Banana Oat Cookies
I first made these when my daughter was a tiny toddler, they can be made to any size so can be suited to small hands or bigger ones! 
Its also an awesome way to use up all the mooshy brown bananas that inevitably end up leftover in the fruit bowl.
Ingredients:
Equal amounts of:
mashed banana 
fine rolled oats (gluten-free oats are available, for more on oats/gluten read here)
The simplicity of mixing equal quantities of mashed banana and fine rolled oats can't be beat. Simply mix well then form into balls or cookie shapes, squash with a fork and bake for 10 minutes or until golden. 
Optional extras:
Ground almonds for extra protein and minerals
Coconut
Vanilla essence
Chopped nuts or seeds
Chocolate drops
When my daughter got a bit older she loved helping me make them and popping a single dark chocolate drop on top before baking. The chocolate is a buy-in for young appetites and makes them a more appealing lunch-box favourite.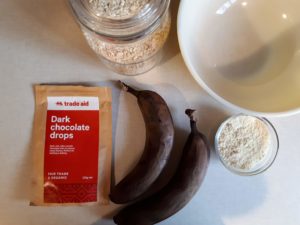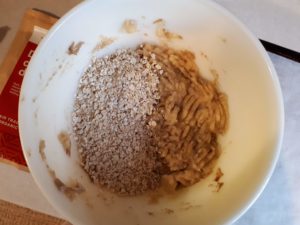 The smiles are just drawn on the photo, I couldn't resist!
Meatball Kebabs
300-500g Organic chicken or beef mince
1 large grated carrot
1 egg
½ cup Breadcrumbs (Gluten-free if desired) – leftover cooked rice or quinoa may also be used
2-4 Tablespoons Finely chopped parsley
Sprigs of garden herbs to taste, finely chopped: Sage, Thyme, Rosemary are all good
A splash of homemade tomato sauce (improvise if you don't have one!)
A dash of tamari (or soy sauce)
1 clove crushed garlic
Salt to taste, approx ½ tsp 
Mix all ingredients and form into balls. Smaller balls or larger depending on taste. Fry in olive oil until golden on the outside. Once cool store in fridge. Can be eaten as singles or threaded 2-3 onto small sticks or skewers (trim the point off afterwards to avoid lunchtime accidents).
You can also make these up with a homemade tomato sauce and spaghetti for dinner, then keep some for the lunchbox the next day. If you're doing this, first fry the balls then let them simmer in the tomato sauce for a while. 
Best Corn Fritters
These are the best way to get some extra greens into small mouths. Based on an Annabel Langbein recipe, I always use the opportunity to blend up whatever is to hand in the garden (spinach, kale, parsley, etc) at the first blending stage. Making tiny ones suits most lunch-boxes and can be eaten as a snack or a main meal. The beauty of blending half the corn is that it lends a natural sweetness to the fritter, happily off-setting the taste of the other greens. 
Ingredients: 
1 1/2 cups of tinned corn kernels or fresh cooked (not creamed)
¼ -½ tsp baking soda 
1 Egg
¼ cup Rice Flour
¼ tsp mild curry powder (optional)
½ small spring onion
Small selection (approx ¼ -1/2 cup chopped) of garden greens (see above, eg. parsley, kale, spinach, fat-hen, silverbeet)
Salt to taste 
Using a food processor or stick blender, blend half the corn with the egg and greens, including the spring onion, until smooth. Add all other ingredients except corn and blend briefly again. Lastly add the rest of the corn so it remains whole and unblended. Fry using your choice of oil (I use coconut oil for these) until golden on each side (a couple of minutes each side depending on heat).
We hope these give you some extra inspiration for filling those lunchboxes! May your children all eat well and enjoy.